Punches, footwork & Head movement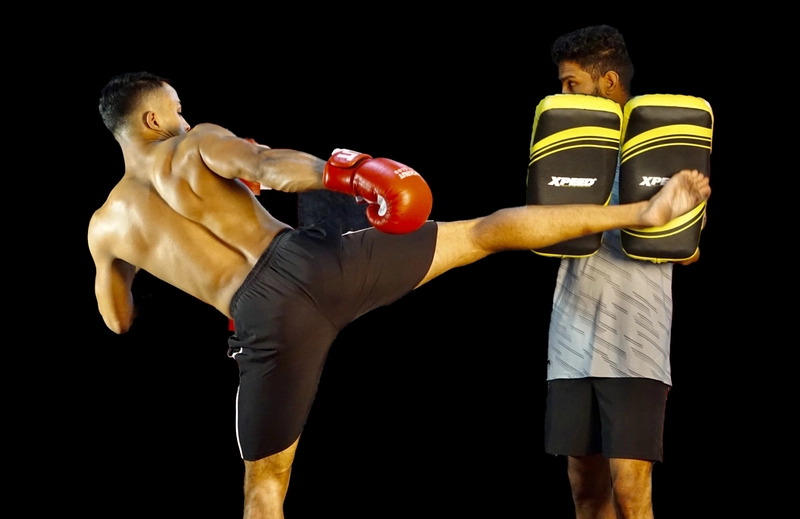 Kickboxing classes at Knockout Fight Club are a fusion of strength and cardio workouts, along with Kickboxing techniques that can be tailored to any level of skill or athletic ability. You have the option to choose from our trainer led group classes or personal training.
Our Kickboxing curriculum focuses on perfecting stand up striking techniques of punching and kicking, without the use of elbow strikes and clinching like in traditional Muay Thai. Along with learning the world's most effective striking art, you will get an incredible heart pumping workout.
Classes are conducted in a safe and encouraging environment, and are led by our world class instructors.            
Knockout Fight Club is ranked for the best Kickboxing classes in Delhi-NCR. We take pride in providing authentic yet affordable Kickboxing programs for our students.
Get in better shape and a toned body
Combination of strength and cardio based workouts
Enhances mood and increases your energy levels
Self-defense techniques for protection
Develop confidence, awareness and mental resilience
Why are we different with our kickboxing?
Authentic Kickboxing instructors
Safe, fun and supportive environment to thrive
Train at various convenient locations near you and chose from multiple available time slots
Regular workshops and seminars for an in-depth knowledge
Best rated Kickboxing classes in Delhi, Gurgaon and Noida
Rank testing and certification to keep a track of your progress
Opportunity to compete in amateur and pro MMA events
How do we go about kickboxing?
Our Kickboxing Program is suitable for beginners interested in developing a new skill, fitness enthusiasts, as well as seasoned athletes looking to push their limits to the next level.
For a complete beginner wanting to perfect the technique, we will start by focusing on the Kickboxing basics – Punches, kicks, stance and footwork. Kickboxing workouts are fun, addictive and you burn hundreds of calories.
For all fitness enthusiasts and those looking to shed those extra kilos, our Kickboxing workout delivers a well rounded, heart pumping experience. Along with the basics we also focus on bag workouts, solo and partner drills and other offensive and defensive techniques.
If you are training to fight professionally, you have the option to join our intermittent sparring sessions, which are completely optional. 
Fill up to get an instant trial class