Submission, takedown and transition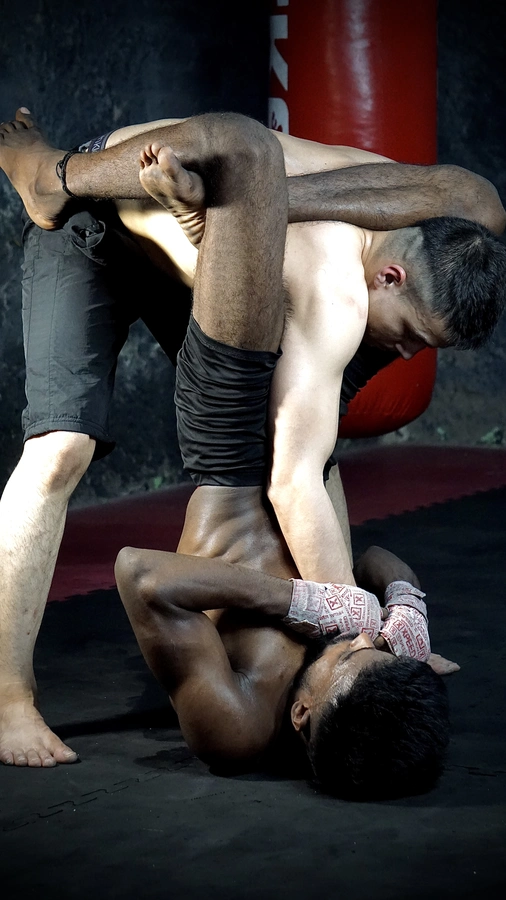 Brazilian Jiu-Jitsu is a Martial Art that focuses on using proper technique and leverage to take the fight to the ground. It is based on grappling and ground fighting to defend and submit even a larger and stronger opponent.
Knockout Fight Club is the best rated gym for providing BJJ classes in Delhi. Our BJJ curriculum places emphasis on learning and perfecting the fundamental techniques of submissions, takedowns and transitions and also covers self-defense techniques. Our classes take place in a safe and supportive environment and you will learn from authentic instructors.
Knockout's BJJ program is suitable for people of all age groups and levels and also makes for an excellent total body workout leveraging your strength.
Benefits of Brazilian Jiu-Jitsu
Full Body workout that engages the upper and lower body
Strength and endurance training
Combat and self-defense training
Build muscle and maximise fat loss
Fun, dynamic and tailor made workouts for all ages and levels
Develop confidence and resilience
Why are we different with our BJJ?
Authentic BJJ instructors and athletes
Rank testing and certification to keep a track of your progress
Regular workshops and seminars for an in-depth knowledge
Train at various convenient locations near you and chose from multiple available time slots
Safe, fun and supportive environment to thrive
Theory sessions to familiarise you with the origins, history, and culture of the Martial Arts
Best rated BJJ Thai classes in Delhi, Gurgaon and Noida
Build a strong foundation as we lay emphasis on teaching the basics
Opportunity to compete in amateur and pro events
BJJ classes at Knockout Fight Club are designed for people of all age groups, levels and goals.
If you are a beginner, our classes will focus on building a strong foundation of the basics of BJJ including self-defense. These classes improve your overall fitness and provide a highly intensive physical cardio workout.
For students who are familiar with the basics and have some previous training experience, our intermediate program will focus on more complex ground game techniques. These students also have the option to participate in sparring sessions which are monitored by our trainers.
Our advanced level program caters to students who are either professional fighters or have a good amount of training and wish to pursue BJJ professionally.
Fill up to get an instant trial class